Home>
IOBC conference June 4-8, 2017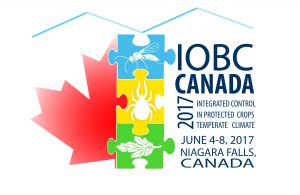 We are pleased to invite you to the Meeting of the IOBC Working Group "Integrated Control in Protected Crops, Temperate Climate" at the Marriott Gateway on the Falls, Niagara Falls, ON, Canada, 4-8 June, 2017".
The program will consider IPM in protected crops from a diverse range of perspectives, from research on new tools, technologies and strategies all the way through to ways of improving efficacy and uptake by the end-user. Many sessions will include a keynote speaker together with submitted papers; each will provide a forum for active discussion and debate as a way of stimulating thinking and scope for future research and outreach activities. There will also be a grower-researcher session focused on ways of promoting biocontrol success in commercial greenhouses.
For more information, visit http://iobccanada2017.ca/